Latapoxy 300 Adhesive 3.5 Gallons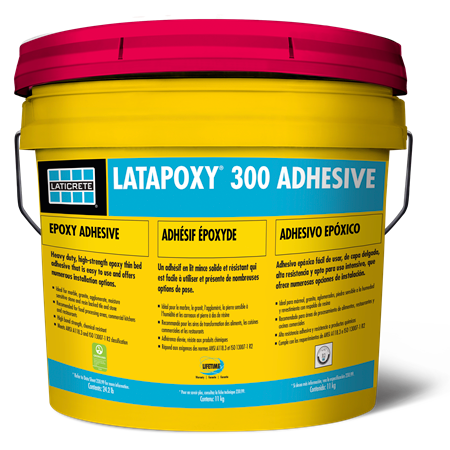 Call now to order or further inquire 718-336-8453
Sold by Each
Covers 60-70 sqft
Water cleanable
No flammable solvents are required to clean tools or finished work
Ideal for installing moisture sensitive marble and agglomerate tiles
Ideal for the installation of resin backed tile, mosaics, stone and agglomerates
Non-staining on white and light-colored marble
High bond strength
Maximum chemical resistance
Conforms to ISO 13007 with a R2 Classification                                                                                                                                                                                    LATAPOXY 300 Adhesive is a chemical resistant, epoxy adhesive that will bond to most sound, clean surfaces. Adhesive spreads easily and cleans with water while fresh. LATAPOXY 300 Adhesive is a factory-proportioned kit consisting of epoxy resin, hardener and chemical resistant silica filler. LATAPOXY 300 Adhesive can be used in interior and exterior (see limitations) walls and floors, wet and dry areas.