Laticrete 9235 Waterproofing Membrane 2 Gallon w/ 6" Fabric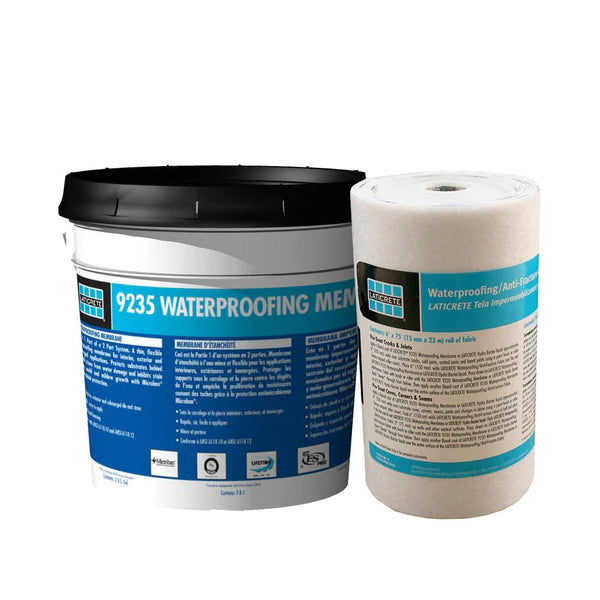 Call now to order or further inquire 718-336-8453
Sold by Each
 2 Gallon (Coverage: 75 sqft Liquid)
 Includes: 1 roll 6 inch x 75 foot fabric
9235 Waterproofing Membrane is an easy to install, thin, load-bearing waterproofing membrane designed specifically for the special requirements of ceramic tile, stone and brick installations. It's a perfect solution for wet areas and continuous water. submersion applications.
Equipped with anti-microbial technology - Inhibits the growth of stain-causing bacteria on the waterproofing membrane.
Safe - No solvents and non-flammable.|Interior and exterior use.
Vertical and horizontal surfaces (including ceilings).
Thin—only 0.02" (0.5 mm) thick when cured.
Anti-fracture protection of up to 1/8" (3 mm) over shrinkage and other non-structural cracks.
"Extra Heavy Service" rating per TCNA performance levels (RE: ASTM C627 Robinson Floor Test).
IAPMO and ICC Approval.
Applies quickly with a paint brush or roller—no special mixing or application equipment needed.
Fast cure—normally ready in hours for finishes.
Install tile brick and stone directly onto membrane.
UL GREENGUARD GOLD certified.
Easy cleanup—just use water while fresh.
Protects concrete & reinforcing steel from corrosion.